The Online Licensing System
The Online Licensing System is a display, distribution and research platform containing all Bloomberg, CNBC and Fox Business News interviews since 2013. The platform can be viewed as offering three tiers of value to users;
Display broadcaster content to your website, intranet or social media platforms seamlessly and on demand. Quick Display
Distribute content via our unique email distribution system that allows users to syndicate content that is charged on a pay-per-view basis. Quick Distribute
Search and research who said what and when on Bloomberg, CNBC and Fox since March 2013 via our powerful search filters. Quick Find
Quick Display
Our platform ingests all Bloomberg, CNBC and Fox Business News content globally which amounts to approximately 200 key interviews being uploaded per day. These interviews appear the platform within 1 hour of broadcast. From here the interview can be previewed by the various stakeholders and once approved can be prepared for commercial display on your Intranet, Website or Social Media channels within 30 minutes. There is no other service that allows for copyright compliant internal and external display as we are the sole licensing agents for the broadcasters that appear on our platform.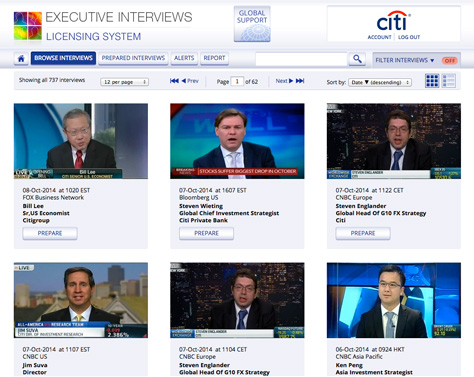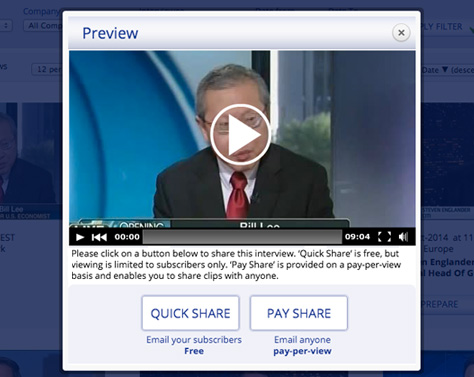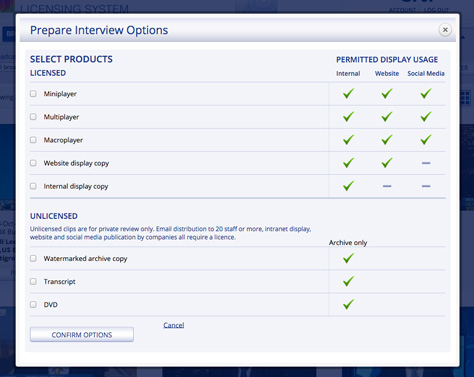 Quick Distribute
The ability to quickly find and email distribute a video link is a crucial tool in the modern economy. Our platform allows internal sharing between subscribers at no cost per view as well as allowing authorized search holders with the ability to email the content to anybody outside of the ecosystem on a pay-per-view basis. This is best practice for sharing content protected under copyright legislation as it is fully compliant and authorized by the rights-holders that we represent. This ability to distribute key interviews to colleagues internally or clients externally will improve your communications and therefore your business as well as reducing risk.

Quick Find
Information is key and easy access to that information in its totality is another key part of our modern workflow. Imagine having all of the financial news sector's interviews in one resource, easily searchable and without advertising? Well a purchase to our platform offers just that. An archive pool of approximately 100,000 interviews of contemporary financial commentary from the world's leading opinion formers is at your fingertips. If you want to know what JP Morgan thought of Facebook's IPO in 2013 or what Jack Ma thought of Alibaba's IPO in 2014 just search and play. If your client or colleagues need to know then use Pay Share to inform them.
Our powerful search and filter features will allow you to search content by spokesperson, company, sector or super sector to get you the information you need quicker than anyone else.