Licensed digital downloads provided by Executive Interviews for broadcasters in our stable are uniquely copyright compliant for commercial display. They are typically licensed for 3, 6 or 12 months with all the compliance side handled seamlessly by us. That leaves your teams to focus on the distribution of the story to your key audiences be they internal, external or on social media.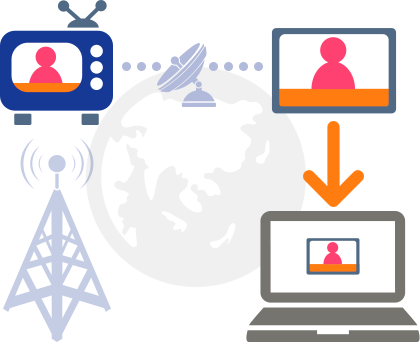 Digital downloads can be uploaded directly to clients websites, intranets, YouTube channels as well as used in large screening events at conferences and in board rooms. This is one of our core services and we have built proprietary encoding software to maximise the quality and speed of our encoding. Our technology allows us to create the video file that you need to your specification whatever that may be. Multiple video file formats are available fully licensed and ready to display within minutes of broadcast.
Additionally, we have state-of-the-art editing equipment and regional editorial teams to prepare your content for commercial display. Our business is news and therefore we know you want the product within minutes of broadcast not hours. We supply you with a clean, security screened and copyright compliant video file. You can then let your digital marketing and communication teams begin syndicating your company's news to the key audiences and stakeholders under license.
If the company only requires the interview for compliance, archive or the review of the guest and his/her immediate PR team then a review copy can be provided. This copy is watermarked and available in multiple video file formats.